By Samantha Dryden-Sillars
On a clear Thursday in June, I had the opportunity to go paragliding with Flyability (http://www.flyability.org.uk/). Flyability is a branch of the British Hang Gliding and Paragliding Association dedicated to supporting people with disabilities to go paragliding in the various parts of the UK. This time, the Flyability's crew of volunteers set up their spot to fly from on a little hill called Binsey (447m) at Whittas Park, a few miles north of Bassenthwaite.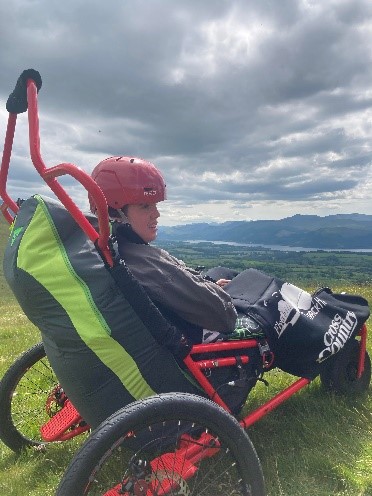 Due to Binsey being in such a beautiful remote location, it took us (me, my PA Jess and my parents) a short while to find the hill. However, the location was perfectly chosen. On the sun-baked landing field at the foot of Binsey, I met up with George Ransome and Helen Lysaght, the chairman and secretary for Flyability respectively. After a couple minutes of introducing ourselves to each other, I met my pilot for today, Malc and then climbed into the land drover provided by Air Ventures, (https://www.airventures.co.uk/paragliding.htm). It was a wild drive up the hill, but great fun travelling over the rough terrain. After that, I watched Helen from Flyability setting up their brand new Handivol buggy (https://www.backbone.fr/produit/ch-07-fauteuil-de-vol-handivol-avec-freins/). It looked comfortable and safe!
As I'm a non-verbal communication aid user, my pilot Malc, and I discussed the hand gestures that I was going to use in the air to communicate when I wanted to come down. Before I knew it, I was strapped into the buggy and Malc was attaching the lines to the gigantic wing behind us. I have been waiting since PC (Pre Covid) for my flight. Malc called to the crew and before I knew it, we were off into the sapphire sky over northern Cumbria.
Well, it was more than worth the nearly three-year wait with the spectacular views over the fields and mountains. To the south, we looked along the length of Bassenthwaite Lake with Derwent Water in the distance. Skiddaw looked massive. To the west, the Irish sea and the Solway estuary almost looked warm! In the distant north, I saw the Scottish hills of Galloway. The views of the rugged landscape were mind-blowing.
As I looked down from my paragliding buggy, vehicles shrank down to the size of children's toys and more and more tiny farms dotted the countryside. My mind was filled with admiring thoughts of the majesty of the landscape below me. I couldn't believe my luck at finally being up in the sky.
After spending a half hour in the sky, I was ready to come down. The landing was quick, smooth and surprisingly gentle. Massive thanks to George, Helen at Flyability and the whole team at Air Ventures for arranging this incredible day.
WHEN'S THE NEXT ONE?
Check out this video of my flight edited by Jess